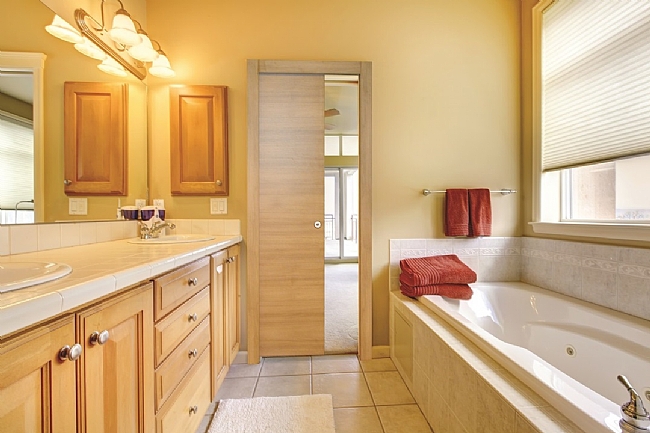 Hamdia Space is a sliding door that fits into a dedicated wall pocket. If you wish, the perfect space-saving solution is available for you in the famous standard of Hamadia doors. Hamdia Space presents a collection of interior doors with sliding technology that perfectly fit into a pocket / niche. These sliding doors are ideal for children's rooms, master bedrooms, a home office, small apartments and more.
Important to know:
The hidden door pockets are made in Italy by Eurocassonetto.
Pockets are covered with 10 cm thick gypsum boards.
Effective and functional solution for small spaces (but not only).
Available in all types of designs and models at Hamadia doors (except for doors with inlaid portals).
Silent rolling mechanisms.
Sliding doors can be ordered in different sizes (70 cm, 80 cm and 90 cm).
Hamadia Space is an excellent solution for small rooms or for large spaces divided into several units such as clinics, offices, factory halls, toilet in a bedroom, a play room inside a children's room and more.
These sliding doors have many advantages:
Space saving - a door that opens into the room or hallway takes up space. For this reason, sliding doors are suitable for homes or offices where you want to turn one of the corners into a small room.
Accessibility - These doors are ideal for disabled people who move around their home in a wheelchair. Regular doors are often an obstacle, as they reduces the width of the frame. A sliding door which disappears into the wall creates an opening wide enough to enter comfortably with a wheelchair.
Dimensions - Because this is not a standard door, you can order the sliding door in different sizes and fit it with a matching frame.
Silent - The door's sliding mechanism is silent so there is no hazard of slamming doors. This is a great advantage for offices, clinics, and even in a home where quiet is required.
We recommend to plan the size of the sliding door and the appropriate niche while designing or renovating the house.